I'm really not religious, and should probably change god for entity, but hey!
13820 yards = 7.852 miles = 12.6 km
That's what came out when I calculated my sock yarn stash. It looks like that: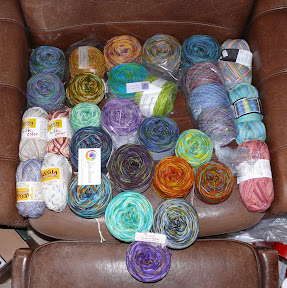 It consists of:
Esty bough yarn:
Gypsy knits: 3x 380 yards
Sophie's Toes: 3x 350 yards
Cinnamon Stitches: 2x 500 yards, 1x 400 yards
Pigeonroofstudios: 2x 185 yards + 3x 170 yards
Miss Violet: 450 yards
Ruby: 3x 550 yards
Yarnahoi: 3x375 yards
Ebay: 3x 420 yards
Regia Bamboo & Silk: 4x 440 yards
Lana Grossa Meilenweit Cotton: 3x 415 yards
Socks That Rock: 2x 370 yards
Lisa Souza: 2x 560 yards
Now is this crazy or what? And it is stored in here, bought two days ago for other stash, but as the previously used box became too small I had to move it!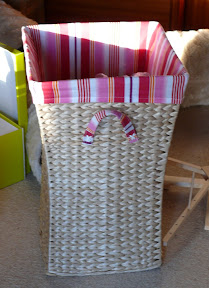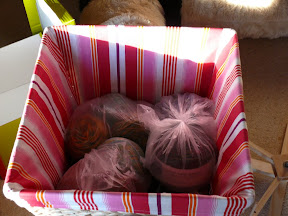 I'm a sock yarn whore!!
This really is bad. I never thought it to be that much. I knew it was a lot as it kept growing in size, but I did not even see it at the level on money it cost as last year was the first year I earned money every month with varying intensity, so I never saw what was spent on yarn directly. uuuh yeah :)
But now I'm set for the marathon, and that's my goal: 10 pairs of socks over 3 months, using up 1.5 miles or 2650 yards. I calculated it at 250 yards per pair of socks, plus some as some patterns use up more or I might go for higher socks when I try out knitting them from the toe up. And only 8 hours till the start is for me, here, but I will likely not cast on for another 10 hours - sleep and such.
I surely could have gone for more, but I also want to do the cardi for arwen, and the melon shawl, and I also signed up for the Hidcote Shawl KAL today, so ... yeah, I'm a busybody!! Terrible, really. I'm already really worked up about this whole issue, you know? Giddy and all. Now I'm alreda ytsrating to act like my poor cats in heat - my bf really is the only one around here not being mad at the moment. Poor boy ;)